Program at San Quentin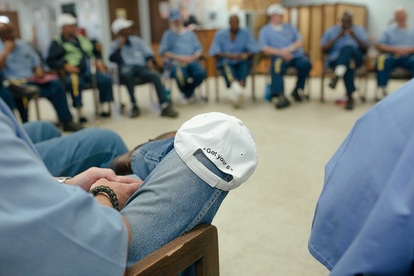 Founded inside San Quentin State Prison in 2012 by an incarcerated Marine, Veterans Healing Veterans from the Inside Out brings incarcerated and free veterans together for mutual support and healing from post traumatic stress and moral injury.
Members take part in peer-support groups based on principles of narration therapy, writing and sharing
personal stories that probe key relationships, experiences and concepts. Participants support and challenge each other in a process of developing insight into their circumstances and decisions. Each group is a safe-haven where confidentiality is key; the trust that develops is itself a key part of the healing process. Group facilitators come from both sides of the prison walls. This
work is complemented by yoga and meditation practices specifically geared to trauma survivors.
---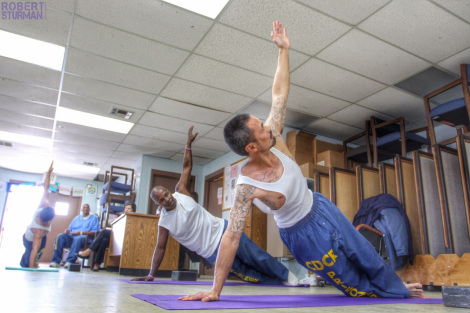 Trauma narratives are more than words on a page: they are stories rooted deeply in the body. Unresolved, traumatic experiences may lead to stress-related illness and dissociative behaviors including drug abuse and violence toward self and others. Trauma-sensitive yoga and meditation practices allow group members to process their narration therapy work at a physical level, by releasing long-lived tensions held in the body. VHV-FTIO offers this opportunity through a partnership with
Prison Yoga Project
.
Members may also elect to be trained in one-on-one mentorship and group facilitation. This training provides a skill-set that is personally and professionally useful. It also helps ensure the sustainability of the program over time, as trained facilitators go on to lead their own groups at San Quentin, in other institutions, or upon parole in the wider community.
---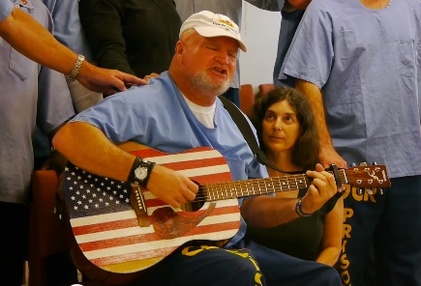 For Memorial Day 2015, the men of VHV-FTIO performed
Theater of War
, a 45 minute performance piece produced in collaboration with
Marin Shakespeare Company
. The performance was the culmination of eight months of work under the direction of Lesley Currier, which began with participants writing and sharing personal stories of traumatic military experiences. The actors then crafted monologues, scenes and songs from their writings. A natural extension of our narration therapy group work, this process gave the actors a chance to explore their own stories through mindful repetition in rehearsal, and/or by watching as fellow cast members developed their story into a scene.
See the full production here.
Taken together, these practices foster the self-awareness and behavioral change that allow returning veterans—whether from combat or prison—to make successful transitions back into society.
---
---
Veterans Healing Veterans from the Inside Out receives 501(c)3 fiscal sponsorship from
Insight Prison Project
.
---