Our Mission
Veterans Healing Veterans from the Inside Out works where the military meets the criminal justice system to heal wounds that can result in suicide and incarceration among our nation's warriors.
Our Vision
We envision a society equipped with the understanding, capacity and moral courage to truly leave no service member behind.
---
Our History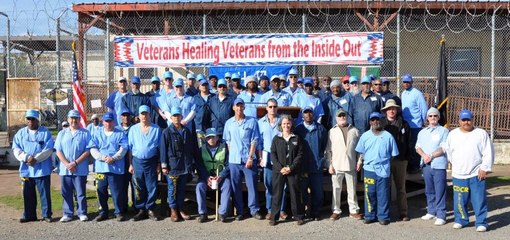 Veterans Healing Veterans from the Inside Out was founded in San Quentin State Prison in 2012 by incarcerated Marine Ron Self. Like many men housed at San Quentin, Self had taken part in various programs designed to foster self-insight and self-regulation. A veteran of prolonged and intensive combat over the course of a decade, Self was packing layers of complex trauma. In programs such as
Insight-Out's Guiding Rage Into Power (GRIP)
and
Insight Prison Project's Victim Offender Education Group (VOEG)
, he found an opportunity to explore the impact of his experience, and to begin a life-long process of healing.
In 2012, the Veterans Administration released a report estimating the rate of Veteran suicide at 22 per day (the number has since grown). Alarmed by this statistic, inspired by the healing power in the simple act of telling one's story, and knowing that Veterans often feel safest in each other's company, Self launched a pilot program: a peer-to-peer support group centered on a series of writing prompts which explore the ramifications of trauma (whether from early life, military service or incarceration.) Jacques Verduin, a pioneer of prison rehabilitative programs and the Founder and Executive Director of
Insight-Out
, provided essential support and guidance as the program's first Director. Veterans Healing Veterans from the Inside Out was born.
In its first year, the program grew to include trauma-sensitive yoga through a partnership with James Fox and
Prison Yoga Project
. Author and combat Veteran Brenton MacKinnon developed expressive writing and mentorship training components; and the waiting list to participate swelled. At present, the program comprises three peer-to-peer support groups; trauma-sensitive yoga and mindfulness meditation; and mentorship/facilitation training. Over fifty incarcerated Veterans—and a smaller number of Veterans from outside the prison—have participated in the program to date. Some report that it has literally saved their lives.
---